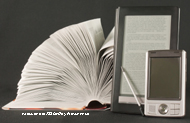 As information professionals, we spend a lot of time dealing with issues related to the capture, processing, protection, and retrieval of organizational content. But there is a whole other side to the information equation that too often gets short shrift: delivery. Otherwise and elsewhere known as publishing, it is as critical a component to knowledge-sharing, collaboration, and decision-making as anything else because even the highest quality data is useless if it isn't made available the format people most want it.
This last statement may not be especially revelatory to many of you, not in the least because I have written around the issue before (one previous take can be seen
here
). But the mainstreaming of mobile technology is giving it new significance as businesspeople and consumers both are increasingly expecting to be able to receive what they need in something other than hard copy form.
Once was something of a techie phenomenon, today it's clear that e-delivery is here to stay, even in industries that are thought to be especially curmudgeonly about such things. Consider these three cases, for example:
·

      
The University of Iowa Press currently offers or publishes an electronic version of almost every book it has, because it is expected in the marketplace, UI Press Director Jim McCoy told the
Daily Iowan
this week. He also cited the fact that around 5% of the organization's total book sales comes from e-books, up from virtually nothing two years ago.
·

      
Publishing industry guru Mike Shatzkin of
The Idea Logical Company
reported that one Big Six [book publishing company] executive told him that ebook sales in their shop had reached the mid-30s as a percentage of units sold, and that there is a feeling in the industry that this might stabilize at around 50% before all is said and done.
·

      
A note on the
MorganStanley SmithBarney web site
states, "You will no longer receive the documents you choose to receive by E-Delivery through standard mail. When a document is available, you receive an e-mail notification with a link to the item on smithbarney.com." At this time, receiving documents electronically still is something to be opted into, but I've seen research and been part of discussions that suggest that day may not be long in coming before this is at best the default rather than an option.
What this tells me is that if you haven't faced it already, chances are that the issue of delivering on screen rather than on paper will soon demand your attention. Whether you work for a college, a book company, a marketing firm, or anyplace else with any kind of reach, you will quickly enter a world in which a "screen" can be as small as an iPhone's or as large as a billboard's, and you will have to think about protecting, parsing, and presenting your information accordingly. This is why you must pay this heed right now rather than leave it to your publishing department to figure out – or worse, your customer support for salespeople to demand of you in the wake of increasing business pressure.
Learn more about what the fusion of edelivery and publishing means for you – and how you can best prepare for it! Contact us today at askus@hollygroup.com.