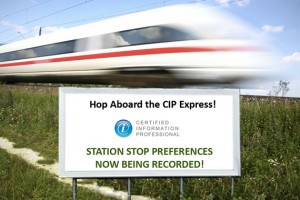 Holly Group's exclusive 3-day workshop on Best Practices in Information Management (click for more) builds on 20+ years of successful consulting, industry analysis, and training in information management to apply the latest best practices to your particular circumstances!
This course synthesizes and equips you leverage apply the latest strategies for successfully managing today's complex array of process and information technologies – ranging from data management, capture, and imaging to output, delivery, and archiving. And it also prepares you to earn your Certified Information Professional designation if that's something you aspire to!
Here's what you get, along with the opportunity to exchange ideas and experiences with other students and the instructor:
Arrange for your workshop today!
COURSE OUTLINE

DAY ONE
Cornerstone Concepts
Taxonomy
Metadata
Governance

Exercise: Card Sorting

Enterprise Search
Business Intelligence
Master Data Management
Text Analytics

Lunch

Information Capture
Business Process Management
Knowledge Management
Email Management
Content Management

DAY TWO
Collaboration

Exercise: Planning for Collaboration

Social Media
Information Workplace
Instant Messaging
Telecommuting Support
Web Conferencing
Security
Records Management

Lunch

Data Privacy
Digital Rights Management
Archiving
E-Discovery

Workshop Discussion(s)
Students share and critique their own situations, documents and ideas

DAY THREE
Information Architecture
Technical Architecture
Cloud Computing
Mobile Applications
Websites and Portals

Strategic Planning
Building the Business Case
Implementation Planning
Requirements Definition
Solution Design
Change Management

Lunch

Workshop Discussion(s)
Students share and critique their own situations, documents and ideas

Wrapup
– About the CIP Exam
– The Future is Now