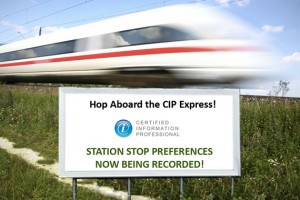 Holly Group's exclusive 1-day accelerated "express" class on Best Practices in Information Management (click for more) quickly and affordably puts the latest process and information management disciplines at your fingertips – all while preparing you to earn your Certified Information Professional designation if that's in your path!
[callout title=About AIIM's CIP Designation]
CIP Prep:
Why Train? Why Now?
Slide Show • Market Pulse
Quick FAQ • Google+ Community •
The Official AIIM Page
–
"Why I'm an Information Professional"
Created by information industry association AIIM International, the CIP was created to validate your ability to "bridge the increasing gap between enterprise IT and business executives that currently exists in many organizations."
Developed in accordance with ISO Standard 17024, assuring conformity to accepted procedures for certification programs, CIP candidates must demonstrate knowledge of six domain areas across the spectrum of content and information management:
• Access/Use
• Capture/Manage
• Collaborate/Deliver
• Secure/Preserve
• Architecture/Systems
• Plan/Implement
This course covers all 6 of these domains – and more! – and is the first and only classroom offering to be officially accredited by AIIM. So don't wait –
arrange for your class today
!
[/callout]
This class is ideal if you are seeking a one-day, "in and out"-style program, either stand-alone or as part of larger educational event for staff or partners. Just be sure to bring your best speed-hearing skills, for it compresses a great number of disciplines (including all six domains of the CIP exam) into a short period of time!
Here's what you get, along with the opportunity to exchange ideas and experiences with other students and the instructor!
Arrange for your class today!
COURSE OUTLINE
8:30
Welcome
Cornerstone Concepts
Taxonomy
Metadata
Governance
Exercise 1: Card Sorting

BREAK

Search
Business Intelligence
Master Data Management
Text Analytics
Information Capture
Business Process Management
Knowledge Management
Email Management
Content Management

LUNCH

Collaboration
Exercise 2: Collaboration
Social Media
Information Workplace
Instant Messaging
Telecommuting Support
Web Conferencing
Security
Records Management
Data Privacy
Digital Rights Management

BREAK

Archiving
Ediscovery
Info Architecture
Technical Architecture
Cloud Computing
Mobile Applications
Web Sites & Portals
Strategic Planning
The Business Case
Implementation Planning
Requirements Definition
Solution Design
Change Management
Conclusion
Adjourn
5:30