If you've been paying any attention at all to the latest and greatest ways to manage information, then you've certainly heard of Microsoft SharePoint. The latest in a long line of Next Big Things from The Most Interesting Company in the World ("stay computing, my friends"), it continues to receive an unprecedented amount of press and general attention, and to this observer's eye, it is too-often lauded as The Answer to All Your Questions simply because it exists.
The reasons for this, though misguided, are simple enough:
For one thing, SharePoint comes from Microsoft, which is the infrastructure vendor of choice for many organizations and is so well established that there's no doubt about the company's – or the product's – longevity.
For another, SharePoint not only works, but works fairly well. First introduced in 2001, it took three major releases before most of the major bugs were ironed out. But this isn't unusual for big Microsoft projects – Microsoft CRM and even Windows itself ran this same course – and now in its fourth generation, the product today more than ready for prime time.
Finally, SharePoint does many things and can do them for many kinds of people. Described by Microsoft itself as "the ultimate Swiss Army knife,"[1] it supports business intelligence, collaboration, portals, search, content management, and business forms. The trick, though, is first to figure out what you need it to do, and then explore how SharePoint might do it.
Detractors have rightly pointed out that the product's versatility may in fact lead it to be too many things to too many people – especially for those who aren't yet clear about what they want it to do. SharePoint supports so many capabilities that it is too easy to leave this question open-ended. So the better informed you are about your organization's needs, the better results you will get – a statement, by the way, that is true for any technology solution, not just SharePoint.
Take My Forms — Please
Let's take forms and forms-based applications as cases in point. Considered by users to be necessary nuisances at best, forms exist virtually everywhere and are perhaps the least sexy implementations in the panoply. As such, they tend not to ignite the imagination of the IT professionals and financial executives who bear ultimate responsibility for their deployment.
The problem is that forms are simply too important and too expensive to shirk, ignore, or eliminate. Many enterprise solutions and most consumer-facing applications use them as front ends to databases, data presentation mechanisms, or both – and lifecycle costs (design à archiving) can be as high as $75,000 per form. So it's not enough to declare them "annoying" and push them to the side. Rather, they represent surprisingly significant amounts of expense – and thus surprisingly significant opportunity for savings as well.
InfoPath to the Rescue – But There's a Catch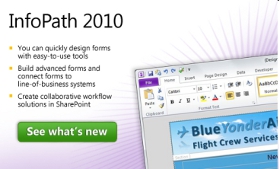 Easing forms-related pain is where InfoPath comes into play. Microsoft's entry in the electronic forms sweepstakes, InfoPath serves as SharePoint's "official" e-forms capability. Steeped in XML, it supports several especially useful tasks that the company is proud to specify:
Quickly and efficiently create forms and minimize training time
Easily create sophisticated forms without writing code
Give participants the ability to fill out forms online or offline
These benefits lead Microsoft's list of InfoPath attractions, and in fact, there are no issues to be had here. However, another batch of items on the list come with a 'catch':
Build modular, extensible, and portable SharePoint applications: this is true enough, but it is overstated as written since doing so requires using other Microsoft tools as well.
Make browser forms conform to standards: this bold statement suggests more than may actually be the case since the 'standards' referenced may be more internal (i.e., consistent across Microsoft stacks) than international (i.e., a true technical benchmark).
Enjoy more powerful Web browser forms: this likely means that improved parity has been achieved between InfoPath client forms and their SharePoint Server equivalents, a positive step to be sure in that it fixes a very old problem, but not one that necessarily equates to more power per se.
Enhance forms with code: this is certainly true in the same way it is true with most other software applications, any one of which can be made more robust through programming. But it also is tacit acknowledgment that InfoPath's strength lies in creating simpler forms rather than more complex varieties, and this is a key distinction to remember when identifying your most pressing needs.
More easily manage forms on the server: this is one core benefit of moving to electronic forms from paper, but practically speaking, it is possibly more appealing to IT staff than to forms creation professionals. Some translation thus may be required.
The Hidden Gems
Microsoft rounds out its Top Ten list with two items that may well be the crown jewels of forms functionality:
Embed forms in Web Parts: this capability positions forms as integral components of SharePoint applications, which broadly speaking often can be built by mixing and matching Web Parts of all kinds. The danger here is that it's as easy to create a process monster as a practical innovation. But the ability to include forms functionality as easily as any other is a real plus for the forms-minded.
Connect forms with line-of-business information and REST Web Services: presented as No. 9 on Redmond's list, it probably should be positioned as No. 1 in terms of organizational value since it is the key to maintaining and leveraging the gobs of data contained in your various back-end systems. Forms-like interfaces have been used literally for decades to facilitate data input and data display, and making the capability more accessible to more people is promising indeed from a process/productivity standpoint.
(stay tuned for more …)
[1]
Jeff Teper, Corporate VP for SharePoint, Microsoft Corp. at the 2009 Microsoft SharePoint Conference