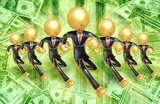 The 'leading' this, the 'unparalleled' that, the 'preeminent' other thing … am I the only one who has grown weary of product announcements that are filled with pomp and circumstance, but signify little?
This isn't a new phenomenon, of course, but it does seem to be running especially hot in process and content circles at the moment, and it leaves me with one burning question:
If all these vendors are the leaders, is there anyone who is a laggard?
Now, no self-respecting company (and yes, there are some!) would characterize itself in that way, but doesn't someone have to be trailing? Unless they all somehow have found measures that allow them to honestly claim the title. Hmmm …
So here's my suggestion: whenever you see or receive a press release, take a marker and cross out all the adjectives – scribble right there on your screen if you have to! Then read the first paragraph to see whether it's relevant or interesting to you, or merely self-serving to them. If it's the latter or, worse, you can't even tell, then move on. For if the vendor can't articulate its value to you in a written communication it had luxury of developing for days or weeks, how is it going to explain it to you in a real-time meeting with your most influential executives?
Don't forget for a moment that the conversation has to be about you and your situation, and don't let yourself become distracted by the flummery that plays so large a role in today's PR and marketing.
Take it from me – the world's leading expert in process and information management.