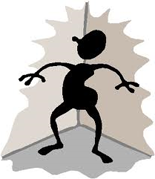 Our good friends at AIIM this week released a new Industry Watch study that digs into how well users believe SharePoint is meeting their expectations in the context of enterprise content management (ECM). Unfortunately, some of the results are downright frightening – not in the least because they validate this observer's conviction that there's not nearly enough planning going on.
You have to read it to believe it – unless you work every day, as I do, to help organizations avoid and/or overcome the shortcomings the research illuminates. And I quote:
46% of respondents reported their biggest ongoing issue to be the lack of strategic plans on what to use SharePoint for, and what not to use it for. [Governance – metadata, classifications, taxonomy – was cited next most often, by 43% of those responding.]
70% have no acceptable-use policy, and only 28% have a guidance policy on corporate classification and use of content types and columns. Only 11% have legal discovery policies for SharePoint.
Over 60% of organizations have yet to bring their SharePoint installation into line with existing compliance policies.
Un-governed SharePoint is considered to be increasing compliance risks in 10% of sites.
35% have no long-term [records] retention strategy, including 27% of even the largest organizations.
For those who will now accuse me of cherry-picking the bad news, I have but two words: you're right! But I've done so because none of the rest of the great information this study includes – about primary drivers, third-party applications, implementation experiences – means a thing if you don't get your planning ducks in a row first.
Not that you have to figure out every thing about everything before going forward – too much crops up while you're in process for that to be realistic. But you have to at least think through the critical whys and wherefores, and the fit with the rest of the organization (technologically, operationally, and culturally), if you're going to avoid spending gobs of time and money that you probably can't really afford.
So now you know why I'm frightened. How about you?
This post originally appeared in on the AIIM Community Web site, where I am an ECM Expert Blogger. Please let me know if you read something there, or here, that you either agree with, disagree with, or want to comment on. And if you think it'd be valuable to have a little independent outside perspective on your particular situation, well, please let me know that too!