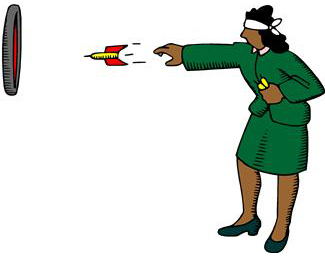 You wouldn't think I would have to say this, but I am begging you: please PLEASE don't begin to think about applying technology to mitigate your information management problems until after you begin thinking about what those problems actually are!
Yes, we are more than a decade and a half into the modern era of content and process management, and I still see and hear about organizations that jump right into implementation without paying nearly enough heed to the nature of the business issues they are trying to resolve.
I bring this up because of two recent encounters with this is a topic of conversation. The first is a video interview I recently gave for iDatix customers under the heading of Don't Make an Electronic Version of the Same Bad Process. The second is the pair of AIIM ECM classes and workshops I just led in Canada and the UK, in which the recurring theme was steeped in the need to tie all thinking – from governance to features to usability and back again – to the original drivers of the initiative.
You see, there is more to managing content and improving processes than simply making it faster to move information along. In particular, it is vitally important that you first figure out whether the existing paths along which that information moves are the right ones, are traveled in the right order, and result in the delivery of the right information to the right people at the right time. Then maybe you can think about how best to apply the technology.
If this sounds like it might take a while to accomplish, and like it might be somewhat difficult to do given the existence of organizational politics and the need to do your regular job at the same time, well, then, you're correct! And in fact, these are very common reasons this fundamental due diligence so often receives short shrift. Unfortunately, what frequently ends up happening is that really good systems are put in place, perform the way they are supposed to, and still get evaluated as not having worked very well – and the scenario is then repeated the next time there is budget to be had.
This makes perfect sense since it is very difficult to bring up a high score when you don't know what the judging criteria are! A good portion of the course work I deliver and the consulting I perform thus is aimed precisely at this point –and this makes perfect sense too, for as I tell my clients, it is sometimes easier overall for the outside consultant to ask the hard questions rather than set an insider up to take all the arrows.
However you approach it, make sure that you do your diligence first and then pull the implementation trigger. If enough of you do, then maybe I can finally stop issuing my periodic pleas.
Class tells! Topics like this — and more — are available through my new training program Best Practices in Information Management: A Certified Information Professional Exam Prep Course. Contact me by email or phone (617-383-4655) for more information!