With the advent of Microsoft SharePoint 2010 well nigh upon us, much breath, ink, and screen space is being expended to assess what it does and doesn't do. Often lost in the minutia, however, is the single most important question you can ask: what can SharePoint do for me?
A big part of the problem is that Microsoft's own messaging is more muddled now than was with SharePoint 2007. Take a look at what we lovingly think of as the product's "color wheel," the graphical image used to depict SharePoint's core capabilities: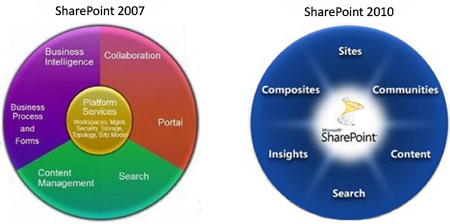 As you can see, the 2007 descriptors were largely functional, readily filling in the blank answering the question "SharePoint supports ___________." The 2010 edition, however, replaces them with terms that seem not to answer any one question, and thus seem not to appeal to any one audience.
For instance, "Insights" are what business analysts are paid to provide, so even if it isn't completely clear what the feature is or does, it sounds like something a line of business person would resonate to. However, "Composites" sound – and, as it turns out, are – more technical, and have less meaning for business managers than their IT counterparts.
The inference, I suppose, is that SharePoint 2010 provides value to both of these audiences, and in fact, it does, once you get the hang of it. But because the how isn't immediately obvious, it does little to help anyone determine whether SharePoint is for him or her.
The point here, gentle reader, is that if you're not entirely sure how you'd put SharePoint to use, don't use the official pronouncements – so often blindly repeated by Microsoft partners and so-called industry "experts" – as the starting point for figuring it out. Start instead by identifying your own primary points of pain, and drill from that vantage point into the reams of Microsoft material and gallons of online posts. You'll know soon enough from the comments, questions, and complaints you'll find just how well SharePoint speaks to your needs.